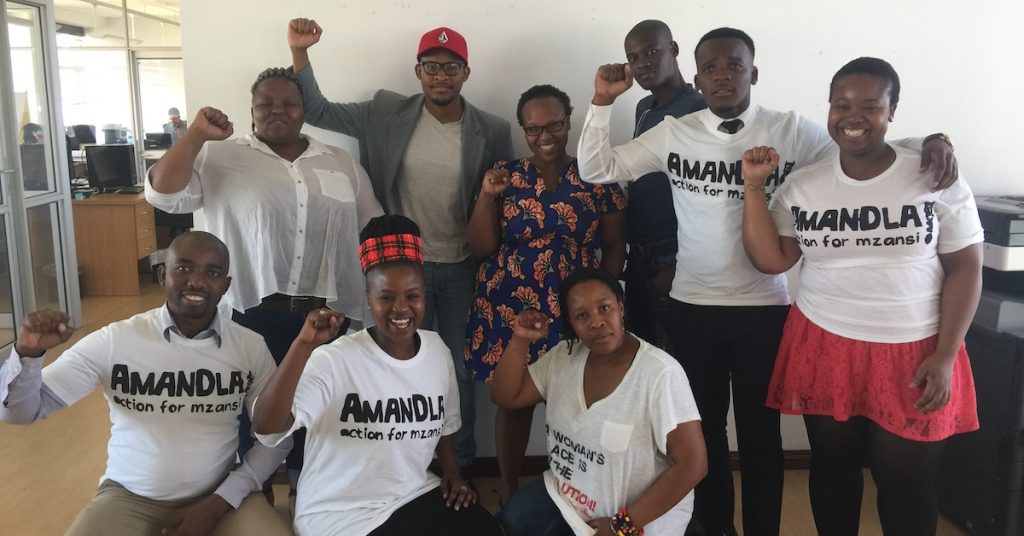 Movement building
We believe that a fairer, more just Mzansi is made possible when enough of us come together and take action on issues affecting low-income Black women. No action is too small or too big. All are fodder for creative resistance. amandla.mobi works to harness the collective power of Black women from low-income backgrounds. To date we have grown into a community of over half a million people. With members of our community, allies and partner organisations, we come together to shift power in ways that help to move our societies laws, policies, norms and values, to work in the service of low-income Black women, and our communities.
We listen to what our community cares most about and want to take action on, and then design integrated and effective ways they can respond through a variety of tools and tactics. amandla.mobi is an ecosystem of people and organisations working to create a shared vision for low-income Black women to thrive and in doing so, making it possible for everyone to thrive too.
Campaigning and creating change
Each campaign allows Black women from low-income communities, and their allies, to come together in numbers that hold decision makers in the public and private sector to account. To date we've run 100s of campaigns, across issues; from gender-based violence, economic justice and police brutality, to food security, corruption and climate change.
Together, we are creating a community that aims to challenge power structures that maintain injustice, one campaign at a time. We offer people practical ways of participating, connecting and collective action. We rely heavily on the latest in civic technology tools to re-distribute power in ways that have real world impact.
To date our campaigns have had a direct impact in the lives of at least 11 million Black women from low-income backgrounds. Some of our biggest campaign victories include;
Black women face barriers everywhere, and civil society is no exception. We designed our Fellowship programme to provide coaching, training and support to existing community organisers, activists and writers, to accelerate their skills and impact. Campaigner Fellowship graduates have used their training and experience to set up their own initiatives, or join organisations and strengthen the ecosystem of researchers, donors, activists and organisers who together challenge government and corporates. When new positions have become available, some of our graduates have even gone on to apply and join the amandla.mobi team.
The annual Campaigner Fellowship programme is a four-month full-time paid Fellowship open to Black women and gender non-conforming people. You can read more about the Campaigner Fellowship here.
Read more about our Campaigner Fellowship graduates here: