The amandla.mobi Campaigner Fellowship is designed for writers and community organizers to receive training in best practice campaigning, intensive coaching, and hands-on practical experience in running campaigns.
This four-month full-time paid Fellowship is open to Black women and gender non-conforming people and will be based at the amandla.mobi offices in Johannesburg. There are six spots available in the Fellowship program which is run each year. You can read more about our Campaigner Fellows here:
Due to COVID-19 we made the difficult decision not to run the Campaign Fellowship in 2021. We are still assessing the future of the Campaigner Fellowship Program.
"I learned we all have a responsibility to fight injustice in any way we can. I worked with NGOs after the Fellowship, using my experience gained. I am now finishing my degree and working as a journalist." – Clio Koopman, 2018 graduate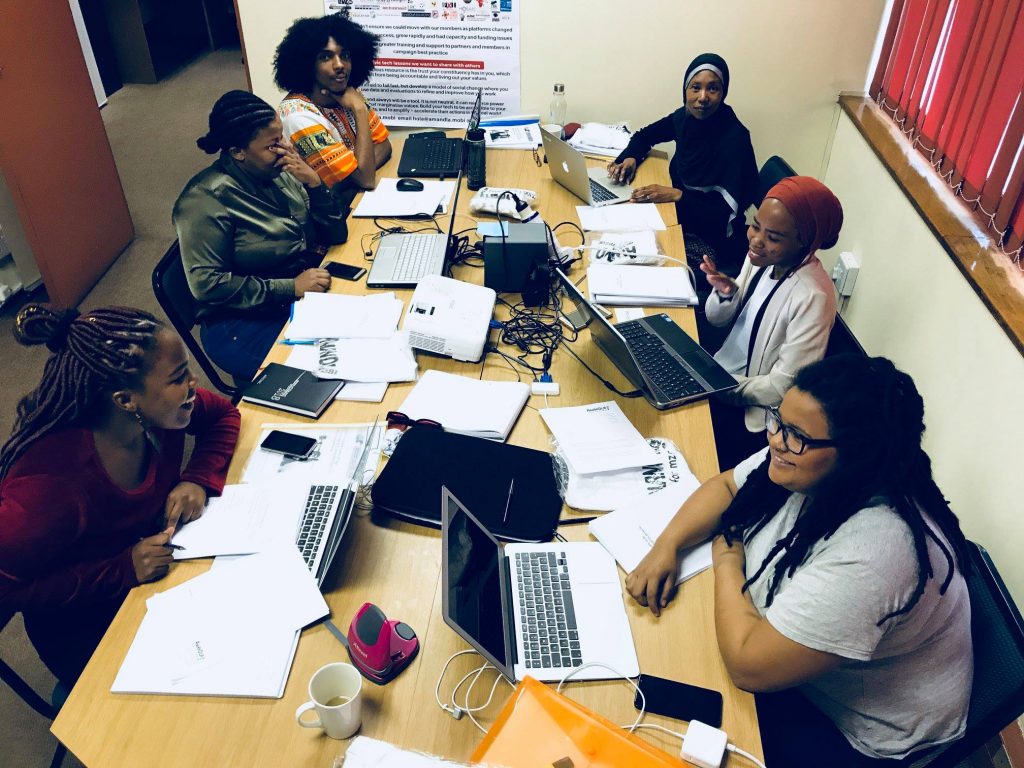 Who we're looking for:
We're looking for Black women and gender non-conforming people, young and old, committed to building people power to campaign for a more just Mzansi. We're looking for applications from people who:
– Have exceptional writing skills in English and either isiZulu, isiXhosa, Sepedi, Sesotho, Setswana, Afrikaans, Xitsonga, Ndebele, siSwati or Tshivenda.
– Have the ability to research an issue and communicate information in a way that is short, simple, and powerful.
– Have an ability to analyse news, reports, etc and design campaigns that use petitions, public submissions, protests, and other tactics to pressure a decision-maker in government or the private sector to meet a campaign's demands. Campaign demands must be focused on creating tangible change, such as the decision-maker changing their practices, policies, or budgets in order to address a specific injustice.
– Have experience in community organising at a local or national level.
– Are tech-savvy and experienced in using tools such as social media, SMS, or Whatsapp to help make real-world activism happen faster and at scale.
– Have initiative, are highly motivated, and can work independently. We're looking for applicants who will take full responsibility for the success or failure of campaigns they're running. Fellows, while provided with training, will be expected to do their own research and teach themselves how to effectively use technology and different tactics.
– Have a "get things done attitude" and can deliver results quickly and on time.
– Are good listeners and can center our work within the experiences of our members, the majority of whom are Black women+ from low-income backgrounds.
– Are detail-oriented. We're looking for applicants who check their facts, care about the quality of their writing and campaigning, and who are quick learners.
– Are based in or near Joburg, or are able to commute to Joburg each day or stay in Joburg for the duration of the Campaigner Fellowship. Unfortunately amandla.mobi only has one office and the Fellowship has to be face to face. The Fellowship program does not provide accommodation but does provide a stipend of R7500 per month
We are not worried about applicants' education qualifications or work experience.
However, the following experience would be a plus (but not essential):
Published writing or blogging (including developing press releases).
Community Organising or campaigning using social media, Whatsapp, or SMS.
Using online tools such as a Customer Relations Manager/ Content Management System (CRM/CMS).
Basic web coding such as HTML.
Graphic design and/or video editing.
What is involved in the Campaigner Fellowship:
The Fellowship will be full-time and Fellows will be expected to work from 9 am to 5 pm, Monday to Friday at amandla.mobi's office.
Duration: Four months, and there can be no expectation of employment at the end of the Fellowship. Dates for the 2021 Campaigner Fellowship Program will be announced early 2021.
Location: amandla.mobi's office in Johannesburg.
Payment: Monthly stipend of R7 500.00 for the 4 months.
You can read Frequently Asked Questions about the Campaigner Fellowship here.
Here's what those involved with the Fellowship had to say
Media and communications trainer Paula Fray (frayintermedia) says:
amandla.mobi's Campaigner Fellowship really stands out as best practice in the sector. It seeks to grow a cohort of activists with a deep understanding not only of the practice of campaigning but also the critical thinking behind each campaign.
We learnt lessons in 2018 so we were able to focus on the strengths of each campaigner in 2019. We moved communications training to the start of the programme, tweaked the content, and built real time communications for campaigns into the Fellowship.
Seeing campaigners work on actual campaigns, watching them write columns, give interviews and launch new campaigns on the amandla.mobi platform is a personal highlight.
Digital campaigning trainer Jamila Brown says:
amandla.mobi's digital fellowship is creating a new generation of movement leaders and social justice advocates equipped with technology as a tool for change. The Fellowship plays two parts: 1) to revolutionalise the Internet and technology in South Africa, and 2) to make technology and the Internet accessible to every South African.
In 2019 I trained Fellows in digital campaigning. It was a truly beautiful experience to build community with Black South African women and nonbinary advocates. Next year I will also inspire Fellows to become trainers, and to transform material into their language(s) and context(s).
The greatest testament to the Fellowship is that Fellows applied for positions and became employees of amandla and are doing incredible work from running digital campaigns to writing hard-hitting op-eds. I am so proud of them. It is an honour to be a part of their growth.
Tlou Seopa, 2019 graduate now working for amandla.mobi, says:
From the beginning of the Fellowship I got to understand what challenges Black people, especially Black women, in South Africa face on a daily basis. I gained knowledge about radical change, and the confidence to do the work. I learnt that writing must inform, educate and encourage people to stand up and take action. I learnt about interacting with different kinds of people, understanding where they come from and what their issues are. I learnt it is important to maintain human connection even in the digital space. The training was challenging, and I got to understand how digital technology can be a game changer for activism and campaigning. I formed relationships with amazing women who taught me so much. Ultimately, I gained a voice in society.
My highlight was the coaching and mentoring by the South African and US-based activist trainers. The sessions were fun and challenging. Many discussions, arguments and disagreements took place. It was a very creative space for me. I had to dig deep and do self-introspection. I had to re-evaluate my goals and decisions, and why I wanted to be an activist. I got to learn that changing things takes take time. You need a clear goal and vision of where you want to get with a campaign or it will be easy to crash. These sessions involved creating campaigns, writing opinion pieces, being creative with image designs, videos, audio recordings, and failing and trying again.
Voices from other graduates
Gaboitsiwe Kgomongwe (2018 graduate): "The fellowship helped me identify the kind of activist I want to be and the type of activism I'm suited for. It confirmed that I prefer NGO work because that's where I see myself making a difference in society. I was awarded a scholarship for an MA in Gender Studies at UCT's African Gender Institute; hoping to graduate in 2021."
Yolanda Dyantyi (2018 graduate): "The Campaigner Fellowship exposed me to a variety of tools within civic technology and the digital landscape I can use to make my voice heard on social issues. I'm grateful for the opportunity and experience because today I'm working towards my own feminist inspired digital platform."
Matshidiso Mabe (2019 graduate): "The fellowship was an invitation to "reimagine" a different world amid the injustices; then be intentional about my 'ask' when it comes to justice. I now know we all have power irrespective of our social settings. An inclusive and just society is the main focus of my enterprise, Capacity Developed."
Thokozile Mntambo (2019 graduate): "This opportunity gave me many tools I can use to bring change in my community and advance my career as an activist. The Fellowship gave me skills to grow as a leader, and to share values with other Black women by challenging injustice through campaigning. I have started an organisation, Ikhaya Labantu Black Lives Movement, that aims to support the fight against GBV, ecofeminism, and LGBTQI communities in townships.