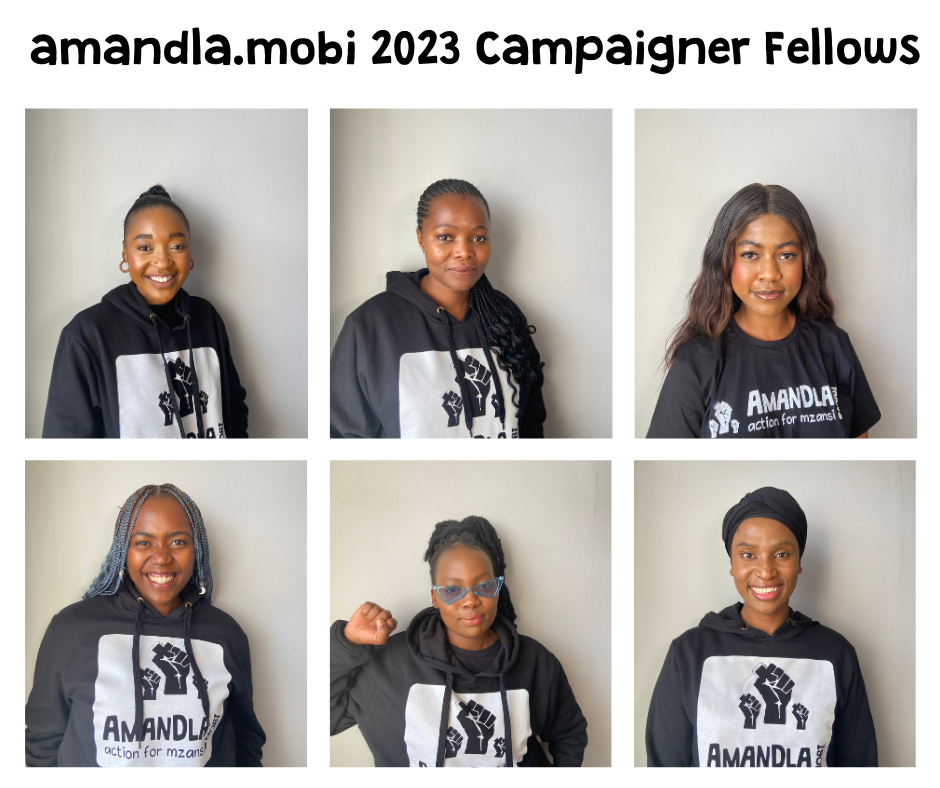 (From Top Left to Bottom Right) Palesa Ndlovu, Celokuhle Radebe, Natasha Mhlanga, Ritza Mandleni, Queen Mdluli and Minothando Hlanganyana.
Palesa Ndlovu
 Palesa Claire Ndlovu's journey of obtaining a Higher Certificate in TV and Screen Media nudged her into understanding and learning more about herself through her purpose. From being a volunteer writer for Sisters Working In Film and Television (SWIFT) to handling camera work for a women-focused campaign. And now, becoming an Amandla.mobi fellow. Having also ventured into Creative Writing as a study, she is currently on the verge of completing her BA degree in Development Studies.
Celokuhle Radebe
Celokuhle Radebe is a young black woman who is passionate about social activism and advocacy. She has a degree in International Relations from the University of South Africa and intends to study further towards this direction.
She has been exposed to and involved with non-governmental organisations since her early days of university and enjoys working in these spaces because of the people she gets to meet. She thrives and enjoys conversations that bring her closer to understanding people's view of the world.
Having worked with Zayrah Africa and Co-contributors, organisations that focused on issues faced by African youth, she was exposed to how young people can be a part of the solutions in their respective countries at the policy level in an impactful way. In her two years with these organisations, she learnt a little about researching and report writing.
"I intend to improve my skills as a professional researcher and writer and look forward to growing within the social justice space in the different possible ways available."
Natasha Mhlanga
Natasha Mhlanga is passionate about having a positive social impact and elevating the communications industry in South Africa. She is a recent Public Relations and communications graduate from the University of Johannesburg and is still furthering her studies. She worked at a company named DevCom for a year. During that time, she learnt how to organise groups via Focus Groups and doing surveys in community areas in Pretoria as well as working with some of their clients such as Massmart. She has done work at an orphanage in her area. She has been working with the orphanage for more than a year and helps with their social media as well as some of the admin they do.
"I am always eager to learn more from others and constantly evolve for the better."
Ritza Mandleni
Ritza Mandleni is a Corporate Governance student with CGISA (Chartered Governance Institute of Southern Africa), a colourful thinker advocating for the right to freedom of expression. An activist for public safety in her community and an ally for the equal distribution of educational resources within ABET(Adult Basic Education and Training) institutions in the Gauteng Province.
Over time she has acquired skills in public relations, social media management, administration and communication. These experiences have helped her increase her social impact and engagement because a lot is possible when people communicate openly, clearly and freely without fear of being treated unfairly or judged.
"I've learnt that everything is connected, and almost nothing is a mistake. Everyone has a purpose, and it is on us, as individuals, to aim to be our most authentic selves in order to bring sustainable and effective, long-term changes in this rainbow world."
Queen Mdluli
Queen Mdluli is a Media studies graduate with six years of experience in community radio, where she acquired broadcasting and interviewing skills.
She currently works as an mc and photographer. She is an activist for literacy amongst black children and passionate about igniting talent and nurturing youths who aspire to be a part of the arts industry. She is part of a community book club project under an arts and culture forum in my community of Ekangala called Imbewu Arts and Culture.
"I desire to see a review of the education system/curriculum and for it to be redressed towards nurturing talents and skill development toward black children based on their abilities and passions. I am committed to ensuring the realisation of that vision in my time."
Minothando Hlanganyana
Minothando is a 24-year-old transgender woman who just completed her Bachelor of Education degree at the Central University of Technology. She is passionate about the gender and queer struggle.
"I am a queer activist who believes that queer liberation can come about through education and influencing policy changes."
Minothando is a mentee in OutRight International's LBQ Connect program. She led the Congress of South African Students as the Chairperson of the Vulamasango Sub-branch in 2014/15 and Organisational Development Officer of Mangaung Region in 2015/16. In 2019, she served as the Secretary of the CUT Gabian Organisation. In the same year, she got elected into office as the CUT Bloem Campus SRC: Transformation, Equity and Diversity Officer 2019/20. In 2021 she was appointed as the Provincial Convener of the ANCWL LGBTQIA Desk until September 2022, when she was appointed as the Provincial Coordinator; she served in that position until she resigned in May 2023. Minothando also represented Students at the Free State Youth Parliament in July 2023.