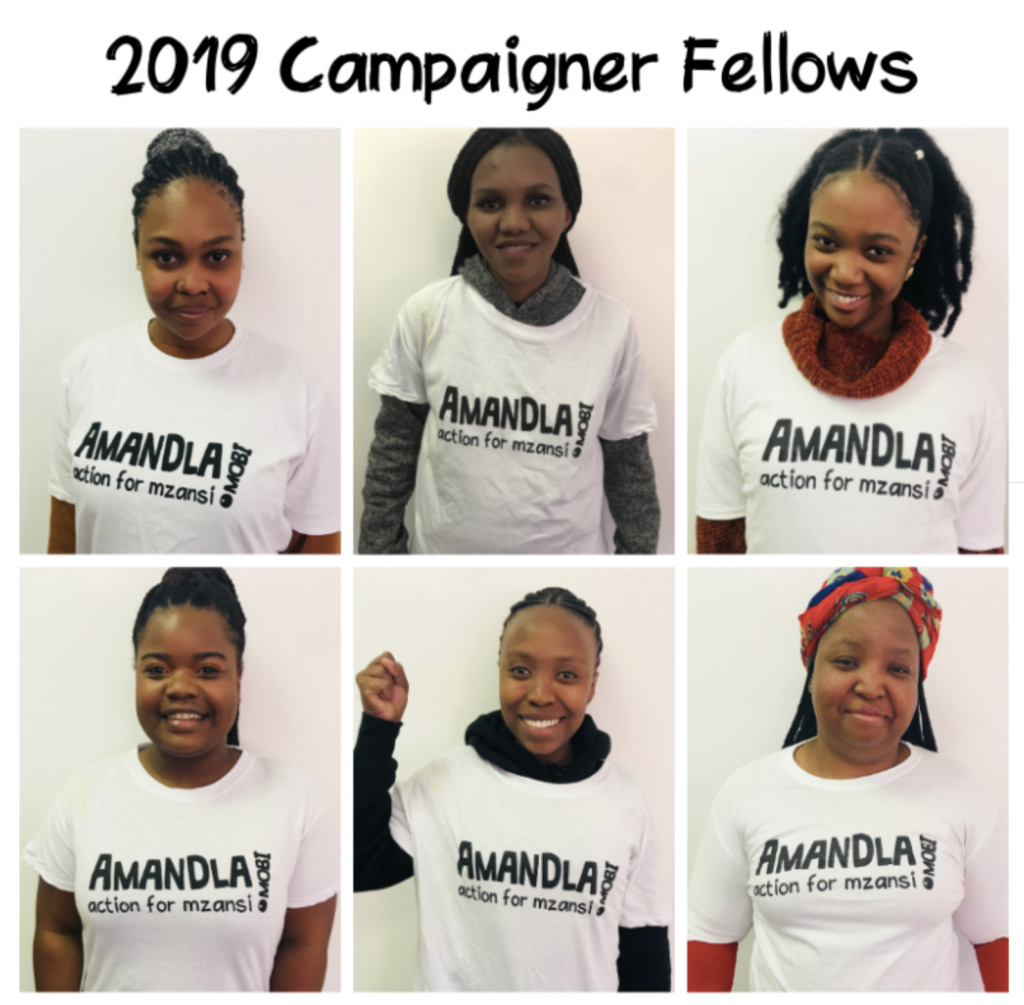 Dineo Rabaholo
Former student activist, lecturer and self-coined "afro-womanist", Dineo Rabaholo was born in Soweto, South Africa. She believes in the empowerment of black people and womxn in particular. Dineo graduated at the George Whitefield College in Cape Town with a Bachelor of Theology degree and is also an alumnus of the North West University
At George Whitefield College, Dineo served in the SRC as the secretary and student res coordinator. This experience sparked her "jealous passion to see black people thrive in anti-black institutions". Her activism at the college contributed to various policy changes, while also confronting her serious wrestlings about injustices as they relate to the church and other faith based institutions.
As an academic, Dineo lectured at the Johannesburg Bible College, and after that worked for the YMCA stationed at the University of Cape Town, as a transformation associate. During this time she got involved in the #feesmustfall protests at UCT, and used the YMCA premises as a "safe space" for students to find help, food and refuge. The safe space also provided an opportunity for negotiations regarding #FeesMustFall involving the Vice Chancellor (at the time) Max Price and student activists.
Having followed amandla.Mobi and its work avidly since inception, Dineo says "it was the idea that a black womxn like me can start something like amandla.mobi that first inspired me, I then aspired to join". Dineo is thrilled to have been selected as a 2019 Fellow and describes amandla.Mobi as a "home for change".
Khanyisile Ntshulana-Bhengu
Khanyisile Ntshulana-Bhengu is a fierce Zulu feminist and activist from Pietermaritzburg in KwaZulu-Natal ( KZN), with a deep love for pursuing the freedom of black women. She holds a National Diploma in Media and Journalism from IIE Varsity college that she holds as her proudest achievement as she is one of the first women in her grandmother's lineage to obtain a varsity qualification. Kay believes in "being the light she wants to see in the world".
As a student activist; Kay was exposed to injustices against black people and it sparked her will to act. In high school (Beaulieu College) she was a counselor (prefect) and got involved in the drive to fight racist practices within the school. She was actively involved in the #FeesMustFall movement, mobilising for resources, coordinating marches and being at the forefront of protests for free education. While a student, she was actively involved in the #1pad1condom campaign, which campaigned for free sanitary towels and condoms for students. As a result of that campaign, free government sanitary towels are available to students at UKZN Pietermaritzburg Campus. Kay is a committed feminist, and supports, through social media,movements like #MenAreTrash, which gives voice to various ways men commit violence against women, children and the queer community.
An activist, Kay "grew tired of being in spaces and tea parties" that just talk about issues of injustice, but do nothing after talking about the issues. amandla.mobi provided her an opportunity to take "vigorous action" on issues affecting black women. She sees amandla.mobi as a "place where her online feminism/activism will mean something". She looks forward to being guided by other black women activists and seeing their voices and work shine.
Matshidiso Mabe
Matshidiso Matlotlo Mabe was born in 1993 and grew up in Qwa-Qwa, Phuthaditjhaba. She then relocated to Dube Village Soweto where her activism was sparked by seeing and experiencing the obstacles that black girl children face.
Matshidiso was inspired by Oprah Winfrey after she attained a scholarship to study at the Oprah Winfrey Leadership Academy for girls (OWLAG) in South Africa. She went on to attain her LLB degree through the University of South Africa because of her passion for justice, socio-economic rights and civic engagement. She has been involved in activism work with City Year South Africa, an organisation dedicated to helping young people realise their potential. She is also a member of the Activate! Change driver network and has acquired skills in development, project planning, networking and the empowerment of black women.
As an OWLAG GirlUp Club mentor , she has trained girls to transform themselves, their communities and the world around them. Fighting for the equality of black women through equity; finding solutions to societal problems through collective participation and removing oppressive policies for black women, children's rights and active awareness are part of the reasons why she joined the amandla.mobi fellowship.
Being the change you want to see; staying true to one's self and having pride in your identity more especially as a black woman in this world and the notion that "Innovation is the conviction that things could be better." is what she believes in.
Palesa Ramolefo
Palesa Matheko Kgomotso Ramolefo is a journalism graduate from IIE Rosebank College who was born in Moletsane, Soweto in 1996.
Raised by a single father who supported her dreams and installed values of hard work, passion, optimism, and education, Palesa established her love for story-telling and reading contemporary African literature. She is inspired by Dr Kopano Matlwa Mabaso, Chimamanda Ngozi Adichie, and most importantly Steve Biko's- I Write what I like. Palesa came to the realization that it is crucial to challenge African leaders on issues of black women, the difficulties presented to them by patriarchy, and finding solutions to improve their lives through active empowerment. She constantly strives to work towards encouraging shared success amongst black women.
She worked as a photographic assistant for the Caster Semenya campaign for Nike which proves that all womxn have a purpose and nothing should limit them. She's also volunteered at the Soweto Theatre in the Arts and Craft division, providing support to local crafters and artists in order for them to gain a fair market share.
By joining amandla.mobi she wants to use her skills, experience, and qualification to amplify the voices of the marginalized. She is dedicated to gaining tools that will equip her to strategically fight for opportunities black womxn and people from low-income backgrounds deserve. "Don't follow a trail or path; create one instead," she says.
Thokozile Mntambo
Thokozile Mntambo was born in Meadowlands, in the heart of Soweto in 1990. She then moved to Snake Park with her family in 2009.
She attended high school in Letsibogo Girls High in Meadowlands and obtained a Diploma in Theology at Evangelical bible college of western Australia in 2014. As a strong believer in community upliftment, Thokozile is the founder of Soweto Environmental and Social Justice Organisation – which aims to protect the environment, health and wellbeing of residents in Soweto. She participated at the Benchmark foundation activist course as a community monitor , for the Tunatazama community network. She writes articles and fights the negative impact caused by the tailing mine dumps which are silently destroying the environment and the wellbeing of her community in Thulani Snake Park. Her activism led her to start a book club teaching children to read and write short stories and poetry.
Thokozile joined the amandla.mobi Campaigner Fellowship because she loves that amandla.mobi uses collectiveness to build and empower women through creating a channel for them to be free to act against any form of injustice. As an activist she believes that through the Campaigner Fellowship, she is guaranteed to gain more skills and knowledge. She plans to use all the experience towards building and creating a better future for her community, and every other black women in South Africa.
Tlou Seopa
Tlou Seopa is a young journalist who was born and raised in Mamelodi, Pretoria.
She attended high school at Bona Lesedi Secondary and acquired her Diploma in Journalism at IIE Rosebank College in 2016. She volunteered as a news reader and producer at a campus radio station – Unisa Radio, between 2015 and 2017. She also coordinated a research study project on Social Provisioning and Mutual Support for Unisa College of Graduate Studies later in 2017.
As a firm believer in the power of education, Tlou is actively involved in the Mamelodi Initiative where she volunteers to teach English.
Tlou believes that it is through being an active member of the community that she will grow to become a powerful black woman activist. She applied to become an amandla.mobi campaigner fellow because she believes that it is the perfect platform for her to grow as an activist. To her, "amandla.mobi is a world that gives black women a platform to raise and act against injustice."