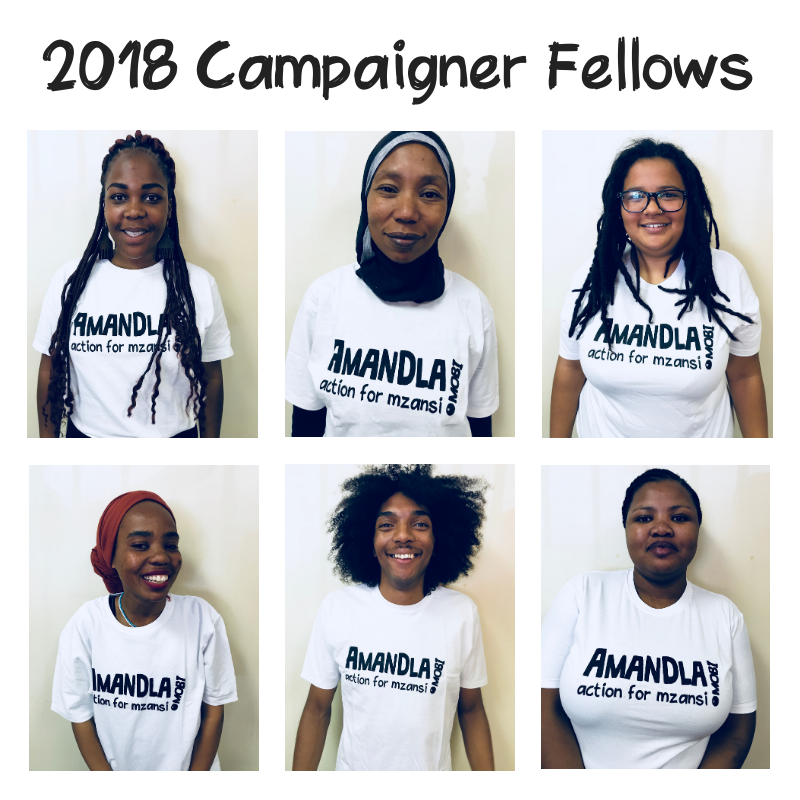 Charlene Mihi
Charlene Mihi identifies as a black, queer, feminist. She is a writer, who often gets invited to perform her poetry or to be a keynote speaker at events or conferences that address women's issues, especially about domestic violence, rape, HIV/Aids, and women empowerment. She believes in the power of storytelling and speaking up especially for the black woman.
Mihi is part of the first class to graduate from the Oprah Winfrey Leadership Academy for Girls (OWLAG). This is where she found her voice- OWLAG molded her feminism, and inspired her to want to make a difference in the lives of other people- especially women. She is also a BA graduate from the university currently known as Rhodes.
A place of bitter-sweet memories, as she was there during a turbulent and exciting time, at the coalface of student activism. She participated in two key movements #FeesMustFall where students were campaigning for free education and the #RuReferenceList a campaign raising awareness about sexual violence and rape culture.
Clio Koopman
She is 21 a year old feminist and activist born in the Western Cape province. She is a Human Rights Defender who is passionate about bringing about healing in the society we live in.
She is the co-founder of Safe Space Project, an NPO, which launched in 2017 where she and her peers have initiated various projects in the Western Cape that facilitate conversations around consent in schools and universities to combat rape culture.
As a student, she aspires to influence impact in society through being an 'active' activist and not solely confined to a specific institution where some of her passions might not find space for fruition. By joining Amanda.mobi, this has given her the platform to execute her aspirations.
As a coloured and lesbian woman, she is cautious of the spaces she finds herself in and how her identity may be received. She dreams of a society where issues of gender, sex, and race no longer become the defining factors of one's life experience.
Yellow is her favourite colour and she describes it as a symbol of courage. "The colour reminds me of the sun as it is a source of light and energy for our planet earth. I relate to it because despite my adversities, I know there is light at the end of the tunnel. I too, would like to be a source of light in someone else's life."
Clio does not subscribe to a specific religious group, but is a staunch believer of energy. It is part of the human experience, to feed off each other positively. Her biggest dream in life is for people to be happy and believes it can be accomplished through combating capitalism as well as normalising mental health issues.
Gaboitsiwe (Gabo) Kgomongwe
"Ke ne ke sa a pari hijab – I never used to wear a hijab but after being involved in a near death car accident, I decided to start wearing one. I worried that if something like that ever happened again, society would not know who I am- that I am a Muslim."
Gabo's experience made her question not only her identity but what her purpose is in life- and how she could use the teachings of Islam, compassion and justice, to make a difference in society.
Gabo's Activism speaks volumes about who she is, she volunteered for Green Peace during COP17 in Durban. Green Peace is an organisation that advocates for social justice, preserving and sustaining the environment. The volunteering experience inspired Gabo to want to contribute in creating a change in society, she believes that anyone can make a change. In 2013 Gabo obtained a Bachelor of Arts degree in Politics and History from St. Augustine College of SA, and an Honours degree in Politics from the University of Johannesburg in 2014.
When asked why she applied for the Amandla.mobi fellowship, and what she hopes to gain from it, Gabo said that she applied because she is inspired by the fact that it was founded and is led by a woman, a black woman. Having an opportunity to be in the same space as women who are like-minded and activists is inspiring. She hopes to learn as much as she can especially about using the digital space- digital activism- to create an impact in society.
Outside of her activism and work, Gabo is a mother, she loves reading, watching documentaries and spending time with her family. At the core, Gabo wants to make the world a better place for everyone- especially for her daughter.
Khaliel Moses
Khaliel Moses, is a former UCT radical student leader and activist. Moses identifies as a non- binary gender non- conformist, what this means is that they do not identify with any of the existing gender and sexuality norms that society forces on people to conform to.
Khaliel prefers to be referred to by the pronouns 'They', 'Them' or 'Their' as opposed to 'He' or 'She'. They are vegetarian​ ​working towards becoming vegan.
They have championed various intersecting struggles ranging from the struggle against influences of our colonial history, class and environmentalism in their time as an activist. Having been part of the "Rhodes Must Fall", "Fees Must Fall" and ​"​Patriarchy Must Fall" movements, they speak much about the amount of gatekeeping that they have experienced in those spaces.
They speak in ​depth ​about the need to change the exclusionary nature of activism and the activist space- many people are being left behind because of differences along the lines of race, class, gender, sexuality and predominantly academic language that is used in activist spaces.
Khaliel, a Communist ​believes in equal access and equal distribution of resources for all. In line with these values they share strong views on the ​importance of environmental protection. They believe that "the fallout of Capitalism" affects the poorest of the poor and the corporations ​that are responsible for this ​are not being held accountable for destroying the environment. They believe we should all play our part in fighting to save our environment and reducing our carbon footprint- it shouldn't' only be a burden on the poor to do so.
Khaliel knows what it feels like to be victimised for being a radical activist. ​In 2015 they were excluded from UCT but were able to fight the case and come out victorious.
Khaliel's family were also disappointed when they discovered that Khalil was part of the radical student movement that swept South Africa. Now a Campaigner Fellow at Amandla.mobi, ​Khaliel is excited to be part of a space that will allow them to pursue their activism and continue fighting against injustices.
Noxolo Mfocwa
Noxolo Mfocwa, one of our campaigner fellows, is a student activist passionate about social change. In her work Noxolo focuses on womxn's rights, class and discrimination based on sexuality.
After studying Politics and Sociology through the UCKAR (University Currently Known as Rhodes) and UNISA, Noxolo is aiming to get her LLB and use constitutional law to create a more socially just world. Living in the digital age, Noxolo believes that social media and cellphones are important activist tools and should be combined with more traditional grassroots activism.
As a black queer womxn, Noxolo refuses to live in a world where black womxn like her face oppression. This and the racism she experienced on UCKAR campus drove her to activism. Her causes include; womxn's right and rape-culture. Noxolo also believes in economic freedom and, being a bisexual womxn herself, the issues queer people still face in South Africa, despite same-sex marriage being legal since 2003.
When she isn't on the streets in protest action or in police stations helping unjustly incarcerated comrades, Noxolo enjoys watching True Crime TV dramas- her current binge being the Wallstreet show Billions, reading black radical feminist literature and just relaxing or going out with friends. But, even in these breaks between her work Noxolo still brings all her core values of respect, love, and justice. Her friends have described her as exceptionally loyal, gregarious, and strong-willed, and always present when they need a shoulder to cry on or a friend to laugh with.
Noxolo is part of and at the forefront of an ongoing and ever-growing movement of student activism and through her work is changing our world, and the one our children will inherit, for the better. She hopes that through her work as an Amandla.mobi fellow, her activism will extend past campuses and reach a wider audience.
Yolanda Dyantyi
Yolanda Dyantyi is a radical feminist activist, who fights against the politics of respect, and subordination as well as oppression. She is passionate about agency and equality.
Yolanda firmly believes that culture shapes the politics of respect and this takes away from the agency of a child. Because they must constantly be aware of "respecting their elders" this creates a culture where children are silenced. This culture of respect also means womxn's voices are not heard. She believes that it is this culture of silence that enables gender violence and injustice.
As a rape survivor, Yolanda is driven to fight against gender violence and rape culture. She is concerned about the culture of rape at universities, and gendered violence, however, her activism stems from a more grassroots level. She is passionate about eradicating norms that support oppression through systems and institutions. She values education and feels it is an important channel for combating gender violence. She believes that through education, we can teach learners how to fight against the culture of gender violence, as well as how not to perpetuate it.
Yolanda dreams of agency. She dreams of a world of equity, where we all have equal rights to opportunity. Yolanda wants her work to be recognised and appreciated. Yolanda is passionate about living her truth, in who she is, and how she feels but she also values positive criticism.