The high cost of sanitary pads has placed a financial burden on the women of South Africa, especially women from low-income communities whose dignity is often denied. Spending so much money monthly, on something that is beyond our control, has an unfairness that we simply cannot deny. To make matters worse, the government's move to increase Value Added Tax (VAT) would make the situation even harder.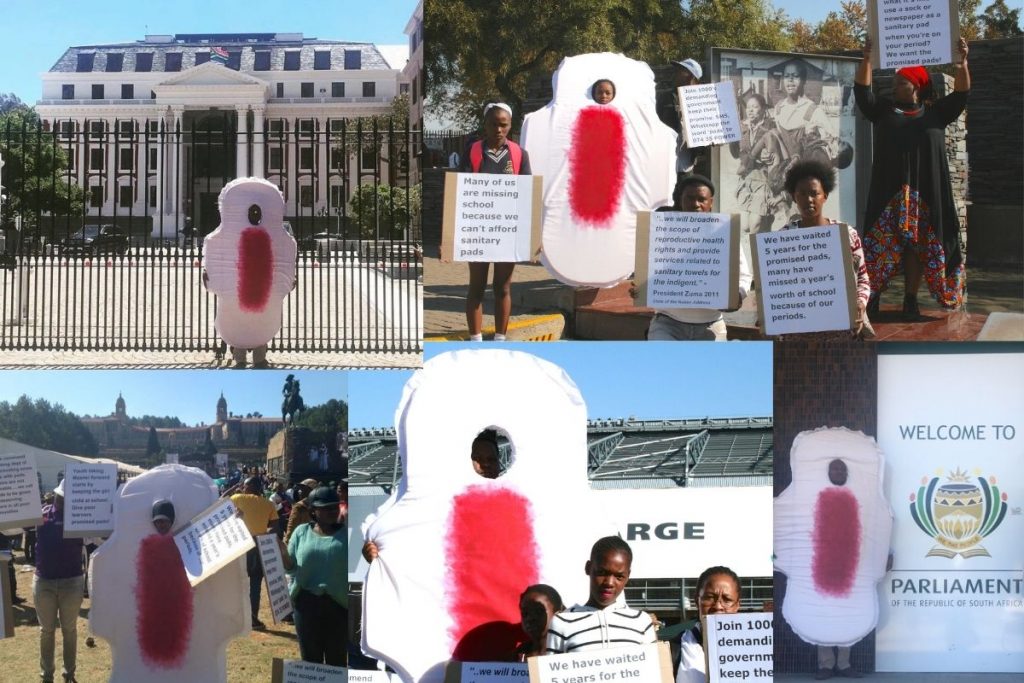 In 2018, the amandla .mobi community mobilised in numbers to try stop the VAT hike, and instead called for higher taxes on the rich. We lost that campaign but managed to apply enough public pressure to get the Treasury to appoint an expert panel to look into making other essential items, such as sanitary pads, zero-rated. This built on the work of Pontsho Pilane who made a presentation to parliament proposing that they introduce free sanitary towels and remove VAT on sanitary products. Thanks to our members and partners, a number of submissions were sent to the expert panel investigating the expansion of zero-rating. We worked to engage the expert panel and centre the lived experience of low-income Black women in their recommendations.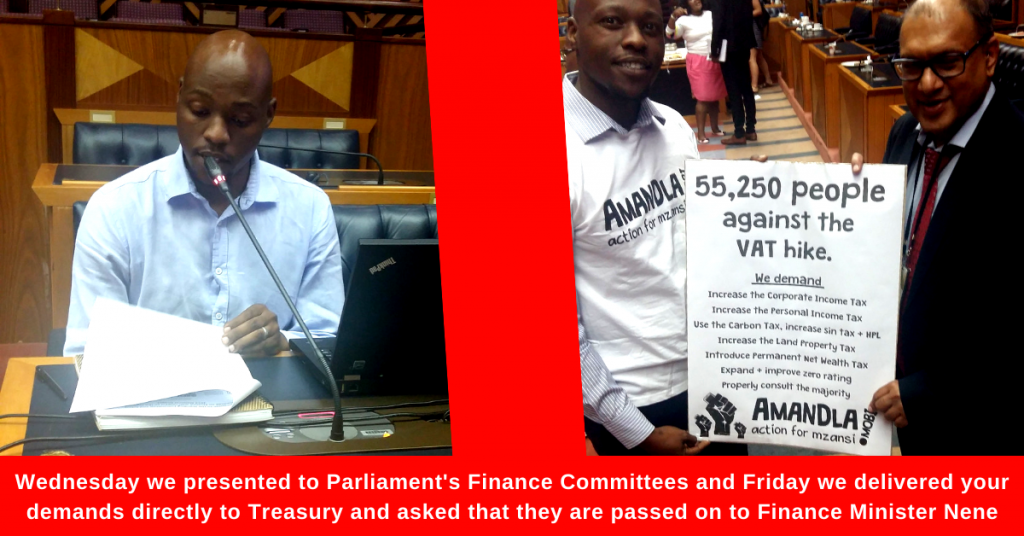 The expert panel appointed by the Treasury compiled a report of recommendations. It was that report that contributed to Minister of Finance, Tito Mboweni, announcing on 24 October 2018, during the medium-term financial presentation in parliament, that they would be scrapping VAT from sanitary pads effective 1 April 2019 [2]. This was a huge win for us.
While we succeeded in getting Treasury to take action, we know the private sector puts profit before people's dignity, so monitoring prices was important to make sure our campaign victory created real change in the lives of low-income Black women. To do this we worked with members of our community to visit different stores to check the prices of sanitary pads before and after the 1st of April 2019, to monitor whether removing VAT would result in a 15% drop in price for the consumer [3].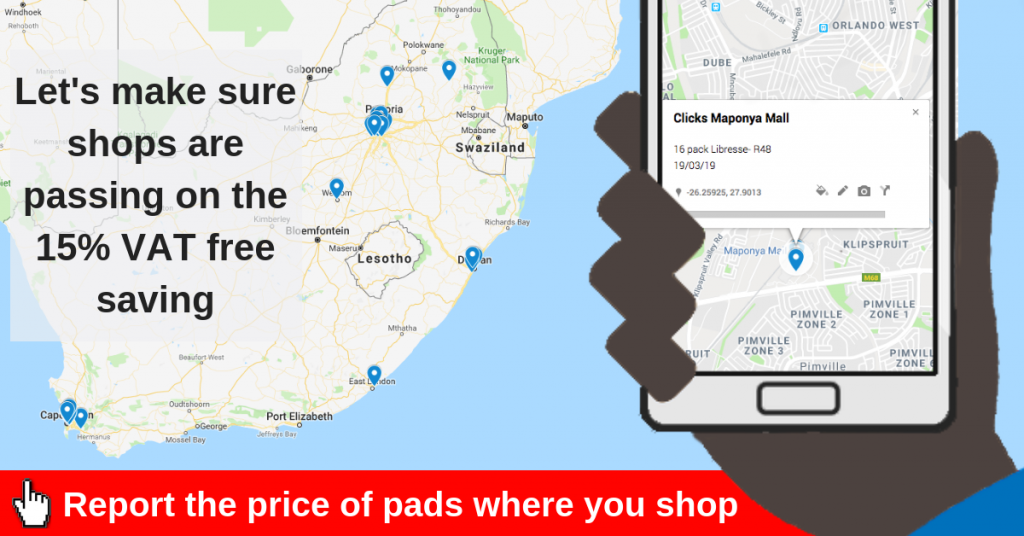 We developed and rolled out a mobile tool that allowed our members to capture the shop location, brand, pack size, and pad prices. amandla.mobi members across the country helped us crowd-source this data on prices, which helped us to compare prices before and after sanitary pads became VAT-free on 1st April 2019. We also relied heavily on the incredible team at the Pietermaritzburg Economic Justice and Dignity (PMBEJD) Group, who for years have compiled a monthly Household Affordability Index, which includes sanitary pads price data [4]. 
Once we had compiled all the data, we could see a drop in the price of sanitary pads. For example, information from one of our members showed that at a Checkers supermarket, a 14 pack of Always Pads cost R47.99 in March 2019. In April 2019, when sanitary pads became VAT-free, the same pack of pads cost R41.70. This reflected a 13% price drop. However, according to the data the PMBEJD Group collected, in June 2018, the average price of sanitary pads was R81.31, which dropped to R71.98 in April 2019, which indicates an 11% drop in price for the consumer [4]. Although the data does not show prices dropping by the full 15%, a decrease of between 11% and 13% is still significant and a step in the right direction. The PMBEJD Group has for years pointed out that while zero-rating may reduce prices on essential items, it does not mean those items are affordable.
According to the 2014/15 Living Conditions Survey, 52% of adult women in South Africa live in poverty, and the majority of them are Black. These 52% of women in South Africa are likely to experience some relief from the scrapping of VAT from sanitary pads, black women in particular, since they are a group with higher levels of poverty [7]. Furthermore, the 2019 mid-year population estimates state that there are 24 million black women in South Africa, 16 million of which are between the ages of 12-50 (menstruating age). This tells us that 16 million black women in South Africa are going to be less burdened by the price of sanitary pads. This is certainly a big win for all those who menstruate, especially Black women, as they've had to scrape funds to afford sanitary pads.
[1] Stop Taxing my period Campaign by an Amandla.mobi member https://awethu.amandla.mobi/petitions/don-t-tax-my-periods
[2] Tito Mboweni scraps VAT on sanitary pads by Thabo Mokone Times live 24 October 2018 https://www.timeslive.co.za/sunday-times/business/2018-10-24-tito-mboweni-scraps-vat-on-sanitary-pads/
[3] Amandla.mobi pad price tracker https://amandla.mobi/pads_price_tracker
[4] April-2019-Household-Affordability-Index-PMBEJD. https://pmbejd.org.za/wp-content/uploads/2019/08/April-2019-Household-Affordability-Index-PMBEJD.pdf
[5] May-2019-Household-Affordability-Index-PMBEJD. https://pmbejd.org.za/wp-content/uploads/2019/08/May-2019-Household-Affordability-Index-PMBEJD.pdf
[6] South Africa is young and female – Stats SA report by Jenni Evans News 24 23 July 2018 https://www.news24.com/news24/southafrica/news/south-africa-is-young-and-female-stats-sa-report-20180723
[7] FACTSHEET: South Africa's official poverty numbers https://africacheck.org/factsheets/factsheet-south-africas-official-poverty-numbers/