We have seen and heard of the things that school girls who menstruate go through, from using socks and newspapers as sanitary pads, and sometimes not being able to go to school because of menstruation [1]. Schoolgirls should not have to go through something that has such a simple solution, which is to provide sanitary pads for them the same way the government provides meals.
In 2011, the government made a promise to offer free sanitary pads to those who cannot afford them, but according to this 2014 article, the promise had not been implemented [2]. Africa Check followed up in 2016 and GroundUp in 2018, finding that the free sanitary towels promise made by former President Jacob Zuma had not been kept [3] [4].
In 2016, health journalist Pontsho Pilane launched a campaign on our awethu.mobi platform demanding that the government provides free sanitary pads to learners in quintile 1 to 3 schools [2]. Our demands of the sanitary pads campaign were delivered to various portfolio committees in Parliament and the Ministers of Basic Education, Health and Social Development. There appeared to be confusion as to which Department (Women in the Presidency, Health, Social Development or Basic Education) should implement the demands of this campaign.
However, the campaign starter, Pontsho Pilane, when researching how the government can make free sanitary pads available, realised that the task to avail free sanitary pads will include multiple government departments [5]. She outlined how each department can help; the Treasury will handle the financial side of things, the Department of Basic Education will manage the distribution in schools and the Department of Social Development will be involved in distributing pads to people who are not in the school system.
While we built pressure on a national level, the KwaZulu-Natal Department of Basic Education instituted a programme to distribute sanitary pads in schools, which was a partial victory and a step in the right direction for the campaign.
The willingness of KZN to participate drove us to launch several campaigns that targeted other provinces, pushing them to follow in the footsteps of the KZN Department of Basic Education [6]. We also went to parliament to demonstrate and draw attention to our demands by delivering campaign signatures (the image below demonstrates some of the campaign tactics we used).
In July 2017, the campaign demands were finally delivered to the Department of Women. Although they made no solid promises, this was a huge milestone in our campaign.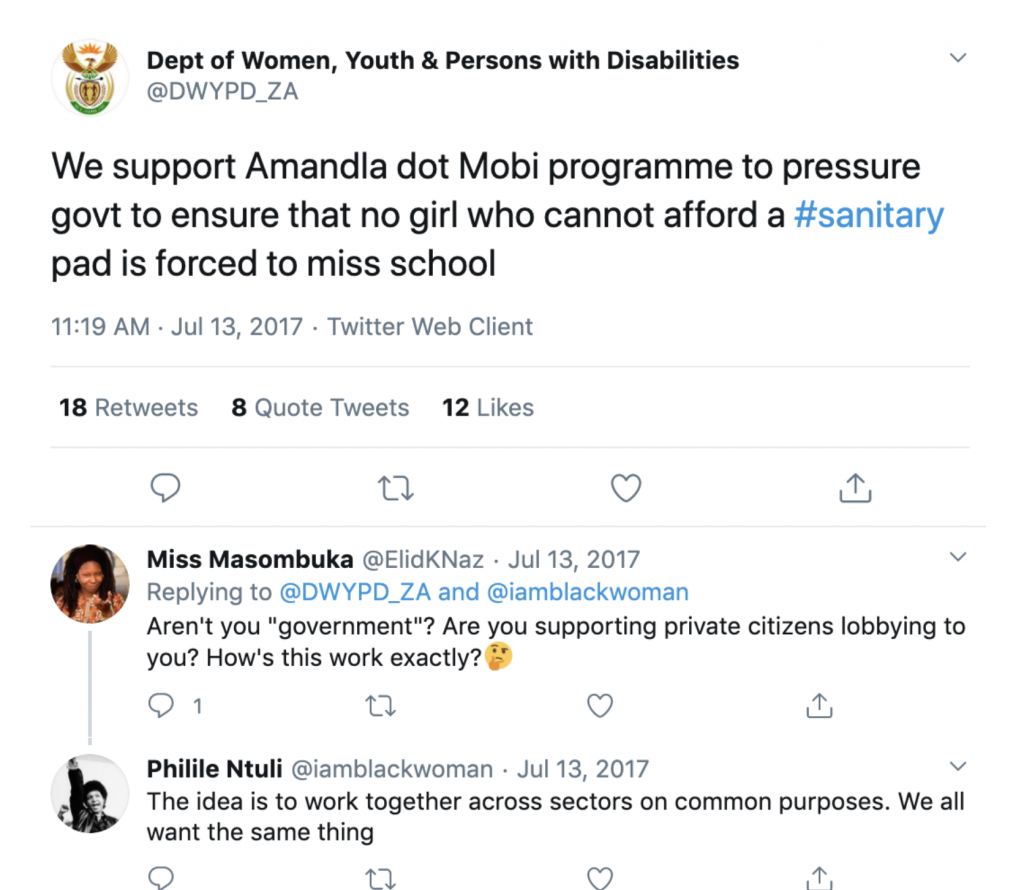 For many of our campaigns, pushing for public policies and programmes is just one part of the campaign. Funds also need to be allocated. After years of campaigning for the government to deliver on the promised free sanitary pads, in October 2018, Minister of Finance Tito Mboweni announced that the National Treasury would allocate funding to roll out free sanitary pads in schools. The Minister noted that some provinces had already started rolling out free sanitary pads in schools and that more funds will be allocated to the provincial equitable share to ensure that this objective is fulfilled [7].
In 2019, the Department of Women launched a programme called #SanitaryDignitaryProgramme with the intention to roll out sanitary pads to schools for free. We are still monitoring the implementation of this commitment.
[1] I use a sock as a sanitary pad, says Langa learner http://www.groundup.org.za/article/i-use-sock-sanitary-pad-says-langa-learner_2418/
[2] No sign of Zuma's sanitary towels https://www.groundup.org.za/article/no-sign-zumas-sanitary-towels_2558/ 
[3] Did Zuma keep his word? Tracking past State of the Nation address promises https://africacheck.org/reports/did-zuma-keep-his-word-tracking-six-state-of-the-nation-address-promises/
[4] Seven years on, Zuma's promise of free sanitary pads has not been kept https://www.groundup.org.za/article/seven-years-zumas-promise-free-sanitary-pads-has-not-been-kept/
[5] Why treasury won't support a fall in the tampon tax
[6] Pads, bleeding the poor dry Campaign https://awethu.amandla.mobi/petitions/don-t-let-young-girls-be-robbed-of-their-education-and-dignity-provide-free-sanitary-products-now

[7] ​​Minister Tito Mboweni Medium Term Budget Policy Statement 2018​ https://www.dpme.gov.za/news/Pages/Minister-Tito-Mboweni-Medium-Term-Budget-Policy-Statement-2018.aspx