On Thursday, 4 August 2022, members of the amandla.mobi community protested outside the Presidential Social Sector Summit in Boksburg. Protesters demanded that the Department of Social Development urgently fixes R350 grant problems because Sassa had stopped paying the grant to millions. They also highlighted barriers to applying for the grant, non-payments, delays with appeals and poor communication from Sassa. Holding huge letters and placards, protesters also communicated their demand to turn the R350 grant into a Basic Income Grant funded by taxing the rich.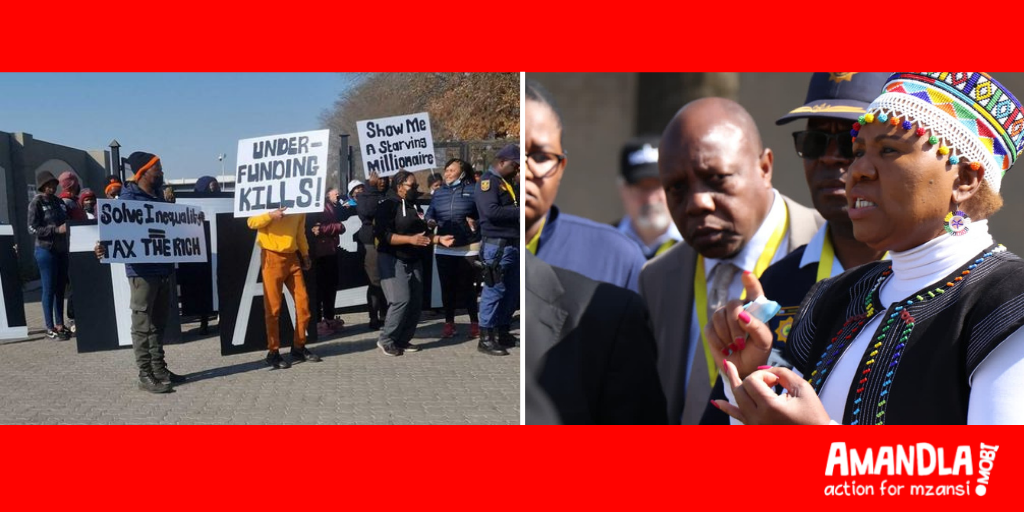 Protesters called for Minister of Social Development Lindiwe Zulu to come to listen to their demands and challenges with the R350 grant. They began marching closer to the summit entrance when a government official promised they would send a delegation. When the delegation arrived, it included Minister Lindiwe Zulu, Minister of Employment and Labour Thulas Nxesi, Minister of Health Joe Phaahla, SASSA CEO Busisiwe Memela and NEDLAC Executive Council member Thulani Tshefuta. Minister Zulu had to answer some tough questions from members struggling with the R350 grant.
amandla.mobi members at the protest were either R350 grant recipients or applicants whose applications for the grant were declined for various reasons. The members told the Ministers how the maladministration of the grant and not receiving it had impacted their everyday lives and left them with nothing to survive. Speaking about being declined due to UIF, one member said: "I have never worked a day in my life, so I can't have UIF."
amandla.mobi has been working with its members across South Africa since the grant's inception to make it accessible to everyone who needs it. However, different issues with the grant have emerged, especially after new regulations were implemented in April, ultimately excluding millions of people. When April, May and June payouts were not made, amandla.mobi members sent messages to DSD, Sassa, Treasury and Presidency demanding they urgently fix all issues and make payments. The organisation and its members also submitted public comments on the proposal to amend some of the regulations, such as increasing the qualifying threshold so more people can get the grant.
"We have worked with our members to use petitions, public comments and protests to ensure our leaders hear from those most impacted by their decisions. Our calls to fix the R350 and turn it into a Basic Income Grant funded by the rich grow louder every day," said amandla.mobi Campaigner Tlou Seopa.
In her response to some of the tough questions asked by members, Minister Zulu said: "We know that R350 can never be adequate; it can never be enough. However, we must appreciate the fact that the government only has a particular amount of money which they collect in taxes. We agree with the message of tax the rich. People who earn high amounts of money must be taxed higher.
It is this department that brought back the discussion about the Basic Income Grant, because we are looking for what can we have long-term instead of short-term R350. Most people have agreed, including the President himself; he has agreed it's important for us to implement the Basic Income Grant."
"It is unacceptable that those elected to lead speak of the grant almost as if it is a favour to be appreciated, rather than an obligation and duty they bear," says Seopa. "The bare minimum is not enough. No matter how often our leaders acknowledge that the R350 is inadequate and Basic Income Grant is important, talking alone will never be enough. This is why until we see actual meaningful change, we will not stop fighting for better lives for the poor majority in this country."
Social Development Minister Zulu committed to sharing with the public what had been agreed upon at the Social Sector Summit, despite the reality that the challenges faced with the grant will not be resolved by summits, but only through political will.
amandla.mobi not only works with its members from communities across South Africa but also with other organisations such as Black Sash. More information about campaign demands can be found here:
https://awethu.amandla.mobi/petitions/extend-increase-r350-srd-grant-until-it-s-turned-into-basic-income-support
https://awethu.amandla.mobi/petitions/basic-income-support-for-aged-18-to-59-now
https://act.amandla.mobi/campaigns/tax-the-rich
For more information and interviews, contact:
Email: [email protected]